Encounters With The Paranormal: Volume 2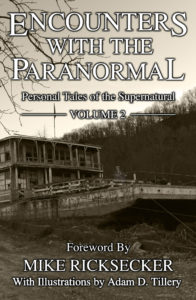 Almost Everyone Has A Ghost Story. Real People. Real Stories. In this second volume, read about more haunted houses, visits from relatives who have passed on, messages from pets from the other side, experiences during paranormal investigations, psychic experiences, hauntings by shadow people, including a dedicated section to the historic Goldenrod Showboat. ENCOUNTERS WITH THE PARANORMAL: VOLUME 2 reveals more personal stories of the supernatural, continuing to explore the realm beyond the veil through its contributors.
A part of the proceeds of the books will be used to help in the restoration and preservation of the Goldenrod Showboat.
Available at (click links below):
Kindle version also available!