Pick up your favorite Haunted Road Media merch!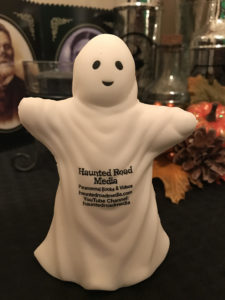 New merch from Haunted Road Media! Ghostie!
Get a very cute ghost figure stress reliever that glows in the dark! Perfect for your desk or nightstand!
Measures 4.75″ tall.
Take a selfie with Ghostie and we'll share it on Ghostie's Facebook page!
$4.99 + $2.99 shipping and handling
(International shipping rates apply.)
All of our t-shirts and hoodies can be found at http://shop.spreadshirt.com/hauntedroadmedia