Encounters With The Paranormal December Special!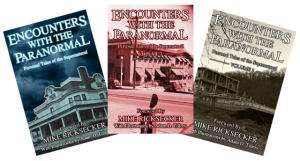 Get all three Encounters With The Paranormal books at a one-time December Special offer, now through Dec. 10th, at 15% off regular price!
Includes 58 spine-tingling ghost stories, 11 authentic illustrations by artist Adam Tillery, and scores of other haunting photographs. Plus, your purchase will help haunted historic locations since part of the proceeds of these sales will go toward the memorial of the historic Goldenrod Showboat (Vol. 2) and the restoration and preservation of the haunted Mineral Springs Hotel (Vol. 3).
That's only $28.88 for the anthology bundle + $4.99 shipping and handling!